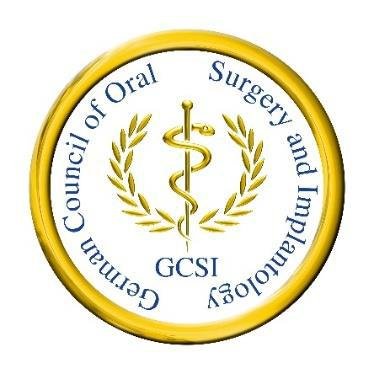 GCSI(German Council of Oral Surgery and Implantology) Fellowship
0
3177
International Implantology fellowship
Dr. Vilasini
+91-8886883387
info@asiandentalacademy.org
course duration : 8 Months
This is one of the most comprehensive and highly advanced Implantology Course. Germans are known for there best in class education system. first time in India german Council has initiated this Implant competency course to enable asian doctors to take admission in MSc implantology in German university.  This is an excellent opportunity to pursue post graduation in Implantology.  its an on patient training course. Each participant will be placing implants in patients of different clinical situations.
Why GCSI Certification Course?
After successful completion of the GCSI program with the certificate "Competency in Dental Implantology (CDI)", the delegate will receive the opportunity at a German state (governmental) university to complete a Fulltime Master Degree (120 ECTS ) or Part Time Master Degree (60 ECTS) with the academic qualification "Master of Science in Dental Implantology and Oral Surgery (MSc)".
This course consists both basic & advanced procedures to address the needs of young & experienced dentists having little or no exposure towards Implantology.  The curriculum is designed with many impressive concepts & procedures like: Implant systems & its variations, Science of Implantology, Hands-On pre-clinical training on Styrofoam jaw models, etc. Our fellowship curriculum also provides Implant placement on patients under expert supervision. In-fact every fellowship participant will need to place 6 implants on  different patients followed by delivery of prosthesis. 
Advanced Implantology Course are taken by worlds best mentors like Dr Roland, Dr Lanka Mahesh, Dr Ramy R. Dr Harsha Arya
It includes Live Demos of Sinus Lifting, Ridge grafting, Ridge splitting, Socket preservation technique, Immediate implant placement in anterior and posterior teeth,
Each participant will be able to place implants in all  such kind of challenging cases.
Osseodensification by Densah (Versah) burs. Have the experience of placing implants with Densah burs.
Each participant will be give 3D guide template  to place angulated implants. Each participants has to observe 10 more cases of there fellow colleagues.
Each participant will be given complete support to get MSc in Implantology in Germany.
This is one of the most advanced International Implant course in India by best Implantology Mentors.
It is  of 8 Module fellowship program.
Each module is of 3 days
Advanced modules will be taken by best speakers like Dr Lanka Mahesh or dr Harsh Arya.

10 cases will be assigned per candidate as a part of On-Patient Training. 

Additional modules such as, Advance Surgical (Sinus Lift) & Prosthetic Module (Full Mouth Rehabilitation)is included in fellowship.

Support will be extended to become Master in Implantology MSc at German University at discounted price.

After successful completion of the Course there will be Implantology Competency exam by German Council members.
If anyone couldn't clear the exam will be given one more chance in next exam at no cost
Any candidate with BDS or MDS qualification are eligible.