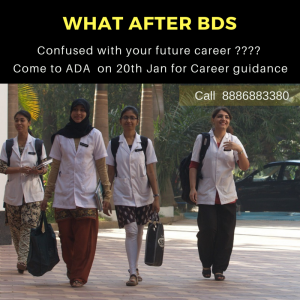 The most frequently asked question after BDS or during internship is What after BDS?  When we join this BDS we have a lot of dreams for this profession. But when we are actually into the profession, we get to know that, there are very few options left for this Dental  graduates. Asian Dental Academy has brought some insights about various options for BDS graduates. We mostly focus on something which is really feasible and practical. There are so many options you might have come across through various videos or articles but most of them are impractical or suitable for BDS grad. Non dental options are there but anyone without the BDS also can do that. We are focusing on something which is useful for the profession. And there are  few non dental options are also there but these are having some direct corelation with BDS.
If you are in search of dental courses after bds which are relavent then you are at the right place. Read the article completely to understand various options available. This article has been divided into two parts. 
Part 1 – Focusing on Indian Based Career
Part 2- For International Career
After BDS the most prominent and best option is MDS. This is very common thinking in India that after graduation everyone will think of going for post-graduation,  but the ground reality over here is, there are hardly 6000 seats in India for  28000, Then in that also there are 50% of non-clinical seats.
We strongly recommend that please try to avoid nonclinical segment unless you are very much interested in that subject. There is hardly scope for employment and business opportunity.
After coming out of the college, MDS is not giving any immediate extra edge into the practice. You are just gaining subject knowledge. You have to go to certain finishing school international national for advance dental courses then you have to imbibe that kind of education, which is really useful in practice where you can call yourself as a kind of a specialist. After working hard for more than two years, people will recognize you as MDS. Even for clinical subject there is hardly any scope for employment You may go for consultation that to mostly for Endo, Surgery Ortho. But this is not going to work for long time.
Now my advice over here is anyway you are going out to get advanced knowledge why don't you do it immediately after BDS. Why to waste 3 years of time and to crack NEET 1 to 3 years. By the time you finish and come, market will be flooded few more clinics.
And also if you don't get any MDS after 2  to 3 years of commitment your  time is completely wasted. You need to first understand that it is not the course of only three years now, if you try it for two years and then you got the MDS, then it is of five years course. The biggest loss is that, that MCQ knowledge which is no way helpful in your practice if you don't get MDS.
Our Advice For BDS Graduates
Best option for any BDS graduate we recommend at Kosmo Denal Academy is Private Practice. This is highly rewarding and sustainable. Yes there is lot ofcompetition. The biggest problem in India is, every one feels getting out of the college and having one degree is enough for practice. One needs to understand that private practice is a business, you are competing with corporates in dental practice. Those days have gone where patient used to come on the doctor's name. world is all about branding, value added services and USP. Dental business or private practice is learnable skill one should learn it and then start business.  
 Best option if you are going for private practice is going for a short term Dental Courses where you can learn RCT, crown preparation and extractions. Try to go for a Dental Courses where you are handling the patients. There should be good mentor, good infrastructure, and thorough hands on followed by on patient training. After this work for one year in any reputed clinic to understand the business. Once you are thorough with this basic procedures try to opt for any international PG course from the prestigious universities like UCAM Spain, which is most relevant in the market for courses like implantology, Cosmetic dentistry, digital dentistry etc.  International degree with speciality in advanced course is always better than going for MDS.
 Biggest advantage with this is
You will not lose your precious time.
Lot of money will be saved.
You won't quit your practice.
You are trained in what is relevant in the market.
You don't waste time in unnecessary academic things like lecture, seminars, Library thesis, final thesis.
You are associated with worlds most prominent personalities.
You get to know international market.
Lot of value will be added to your CV if you are trying to settle down abroad.
Lot of NRIs prefer international exposure accreditation points.
Disadvantages:
DCI won't accept theses degrees, but that is for government posts.
Anyway, you are not hoping for any government jobs your target is private practice. This is no the right option for a stundent who is looking for government job.
You can be the Best Digital dental technician. Basically, there is lot of revolutionary changes are coming in the technology in Dental Labs. Dental technician with limited knowledge cannot compete it. They have a limited IQ. If you are dental graduate then you learn dental technician work then he can be the person to bridge the gap between technology and work. There is a lot of scope for them in corporate labs, even they can set up there own digital lab.
Non Dental
If you have good hummer and tech savvy,  then there is golden opportunity for you in Digital marketing. If you have good language command and if you can write good blogs, you can be the best person to be inducted as content writer for various dental websites. There so many e commerce dental websites where they need to write lot on product description. If one dentist does that work then that will be the best one.  
You can be a good digital marketer – There are so many online classes available to learn these. You can do such marketing for dental websites.
You can opt for MBA marketing 
You can also opt for MBA healthcare management
There are lot of second line medical hospitals. which need such human resource.
In the next blog I will explain you about international options.